ISIS Launch Marks Milestone for Mobile Commerce in Austin
A recap of the ISIS mobile payment event in one of the two launch markets.
The ISIS mobile payment system officially launched this morning at the Great Hills Verizon Wireless Communications Store in Austin, Texas. ISIS, a joint venture formed by major wireless carriers, has plans to build out a mobile payment system where consumers can use their smartphones to pay for goods and services. Austin is one of only two trial markets for the launch.
Today's event took place at Great Hills, one of the concept stores dubbed Evolution 2.0, in Austin. Guests were not only able to experience the mobile wallet technology first hand through "The ISIS Experience" game and product demos, they also had the opportunity to speak with Frank Antonacci, Central Texas region president for Verizon Wireless, and seasoned data expert Heath Cox.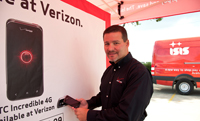 Also at the event, Verizon Wireless presented two HopeLine grants to The Texas Advocacy Project and AVANCE-Austin. These grants are to commemorate Domestic Violence Awareness Month this October. The
HopeLine from Verizon
program has been supporting domestic violence survivors and serving the community for more than a decade.