Chart-Topping Gift Ideas for the Music Lover
Highlighting potential presents from the Amplify This zone.
There are plenty of reasons for music lovers to rejoice this holiday season, including sleek speakers, high-quality headphones and amped-up accessories. Grab a pen and paper or open your favorite note-taking app to add these holiday gift ideas from the Verizon Wireless Amplify This zone to this year's list.
Show-stopping Smartphones
For those on your list who like to listen to music in HD and enjoy better sound quality, go with these smartphones.
HTC One max: Combine dual frontal stereo speakers with dedicated amplifiers and get the power of HTC's BoomSound technology. With up to 64 GB of internal storage and 10 hours of battery life, the HTC One max fits any music lover's on-the-go lifestyle.
Samsung Galaxy S4: The Samsung Galaxy S4 lets users fully customize the listening experience based upon unique preferences. Users can amplify their music through friends' devices by using Samsung's Group Play, a feature that syncs multiple Galaxy S4 devices together to create a surround sound speaker system.
High-quality Headphones
For those on your list who are ready to escape to their own private sound set, headphones are a holiday must have.
Beats Wireless Headphones offer three choices. Dr. Dre wireless headphones provide studio-quality sound, built-in controls and Bluetooth technology for convenient control of music. The Beats Solo HD Headphones, available in six colors, are made of flexible, lightweight material and can fit conveniently in most backpacks or purses. They also allow users to adjust volume, skip tracks and take calls straight from the built-in controls. The Beats urBeats earbuds include a built-in microphone and volume controls.
LG TONE+ Bluetooth Stereo Headset: Switch between phone calls and music with these earbuds that block out exterior noise and have a noise-canceling feature that scans voices for background noise.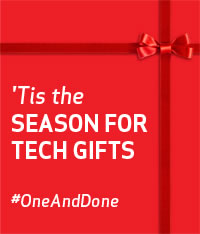 Sleek Speakers
If the above options weren't enough to get any music lover geeking out about holiday shopping, Bluetooth speakers make the perfect gift for those looking to take the party anywhere and keep it going all night long.
The Verizon Wireless "Tis the Season for Tech Gifts" series kicks off this week. Check back for suggestions for everyone on your holiday gift-giving list this year.