Picking the Perfect Portable Speaker Set
For the music lover on your gift list.
Picking the perfect portable speaker set for the music buff can be challenging. There are many options available in the Verizon Wireless Amplify This zone, but before selecting the perfect gift, here are five things to consider: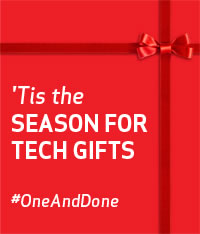 Purpose: Is the music buff on your gift list more likely to play music at home, at work or on the go? Is the speaker for personal listening or is it needed to host a party, listen to tunes at the beach or make household chores more bearable? Knowing the purpose and use for the recipient is the first step in narrowing the selections.
Sound quality: A true music lover won't settle for so-so speakers; they want a speaker that can really turn up the tunes. If you want studio-quality sound that covers a full range of tones, including rich vocals, deep bass and solid treble, invest in a speaker that has a wide frequency range, optimally 60 Hz to 20,000 Hz.
Battery life: Let's not forget battery life. For hassle-free, all-day listening, select a speaker that can hold a charge for at least seven hours. The Jawbone JAMBOX Bluetooth Speaker, for instance, features a rechargeable lithium-ion battery for up to 10 hours of listening.
Ease of transportation: People enjoy the convenience of being able to take their music wherever they go, making portability an important factor. Is the speaker set made of lightweight material? Will it easily fit in their pocket, backpack or purse? How durable is the device? For those looking for a speaker that can withstand wear and tear, the Bose SoundLink Mini Bluetooth speaker has a solid aluminum casing and a skid-proof rubber bottom perfect for the basketball court or the beach.
Extra features: Today's high-tech speakers feature Bluetooth technology, which enable users to remotely sync their smartphones' music libraries to the devices. Some portable speakers, such as the Beats Pill and the Logitech UE Mini Boom, have built-in microphones that transform the device into a speakerphone. Also, consider whether the speaker can accommodate an auxiliary cable for MP3 players without Bluetooth connectivity.
For more music-inspired gift ideas, check out our list of chart-topping speakers, headphones and accessories.