Kid-Tested Road Trip Gadgets
Keeping the kids entertained while driving to see family and friends.
During the Christmas and New Year's holiday season, it's estimated that American families travel approximately 275 miles visiting loved ones; that's nearly 4.5 hours of highway time in a car.
While you may be eager to get on the road, your backseat travel partners may not be so ready for the long trip. Before packing the children into the car for your next road trip this holiday season, help minimize the "Are we there yet?" exclamations with gadgets and devices from the Verizon Wireless Have Fun zone to keep the kids' attention so you can focus on the road.
Make sure all of your Wi-Fi-enabled devices – smartphones, tablets and laptops – are connected to the Internet with a Verizon Jetpack, which creates a personal Wi-Fi hotspot through the 4G LTE network. With the high-speed connection your kids can use services such as Hulu Plus and Netflix to stream and watch their favorite TV shows and movies with little to no buffering to pass the time.
Smart accessories like Crayola DigiTools help turn tablets into canvases with digital crayons, airbrushes and stamps. For the gamer in your backseat, the MOGA Pro Power transforms any Android device (tablet or smartphone) into a mobile gaming system with dual analog sticks, a directional pad, and the ability to play multiplayer. Many tablets, such as the Verizon Ellipsis 7 with a 7-inch HD display, can also be useful for reading e-books, such as the Dr. Seuss's ABC app, or playing games. They can even be used to snap photos out the window during the long drive.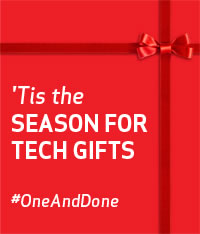 To limit the competing soundtracks from devices, pick up a Skullcandy Stereo Headset. It features angled earbuds for fit and comfort and delivers rich, high-quality sound. They come in a wide range of colors as well, so each child can have his/her own unique headset to listen to streaming entertainment. For a higher-end experience, your children can enjoy rich, deep signature sounds on the colorful Beats Solo-HD On Ear Headphones.
But don't let the fun drain away. Keep your kids' devices fully charged with a Mophie Juice Pack Powerstation, specifically designed to provide rapid charging for just about any USB-charged device. A lighter, more durable option is the Motorola P4000 Portable Power Pack, which easily fits in the backseat pockets and can charge two devices at once.
If you're hitting the road, you've got many options to help you and the kids gear up. But don't forget to load their devices up with an array of kid-friendly apps to alleviate any boredom.
The Verizon Wireless "'Tis the Season for Tech Gifts" series provides holiday gift suggestions for everyone on your list this year.