Tech the Halls this Holiday Season
Make holiday parties festive with wireless technology.
This time of the year is filled with lively traditions, from discovering and arranging decorations for holiday celebrations to attending festive parties with friends and family. Whether you're hosting or heading out to a get-together, you can turn to wireless devices and accessories to help fill your home with the spirit of the season.
If you decorate your home with lights, now you can switch them on or off from wherever you happen to be. Using a smartphone or tablet and the Belkin WeMo Switch, you are able to control the outlet remotely. Download the app and use it to manage your holiday decorations, both inside and outside, and help conserve electricity as well.
Nothing adds the spirit of the season like a house filled with music. The Jawbone BIG JAMBOX Bluetooth Speaker is wireless and lightweight and delivers high-quality sound with plenty of volume. Offering up to 15 hours of battery life, this portable speaker goes anywhere as your guests move from room to room. Similarly, the ultra-compact Bose SoundLink Mini Bluetooth speaker can fit almost anywhere to provide high-quality sound and festive tunes.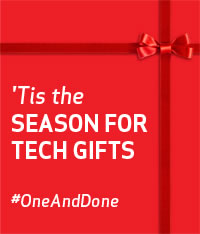 While gathered in the living room with party guests, you can use Google Chromecast to stream pictures of the past year, as well as video like the "beloved" holiday-video Yule Log, from your smartphone or tablet directly to your TV. Google Chromecast also allows streaming of music and Web content.
If you're going to parties this year rather than hosting, you can use wireless tech to monitor your home while you're gone. Gadgets like the Hue Connected Light Bulb Starter Kit and Nest Learning Thermostat let you adjust the lighting and control the thermostat in your house so it's just as comfortable when you get home as when you left.
The Verizon Wireless "Tis the Season for Tech Gifts" series provides holiday gift suggestions for everyone and everything on your list this year.