Tech-Savvy Gifts Hip Enough for the Coolest Person on Your List
Ideas coming from the Verizon Wireless Get Hip zone.
As you look at your holiday shopping list, you may ponder a few names without the slightest clue about what to get them. You know who they are. They are the ones with panache; the ones who can wear certain fashions and hairstyles without the slightest hint of irony. You can't buy these friends or relatives just anything. Their gifts have to be subtly stylish, trendy and cool enough to fit within their lifestyle: a lifestyle that sets trends without trying.
Here are some tech-savvy gift ideas from the Verizon Wireless Get Hip zone for the hipster in your life.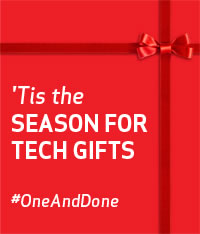 For the cool go-getter, Samsung Galaxy Gear is a device that will keep them connected. The watch can communicate with a Galaxy Note 3 or Galaxy S4 and will allow them to send and receive important notifications, phone calls and photos between the two devices. Think of it as having your phone attached to your wrist.
The new Beats urBeats In Ear Headphones will satisfy the person who loves listening to indie rock and discovering new music while out and about on a coffee run or relaxing at home. The lightweight design and chrome finish with metal casing separates these headphones from others on the market. Other features include volume controls, a built-in microphone and several different ear tip designs.
Have a friend who is full of ideas or planning a new business venture? Tablets, such as the Samsung Galaxy Tab 2 and Apple iPad Air, are portable powerhouses that make sharing and communicating with others easy.
Since style is just as important as function for hipsters, a new phone case with a unique design may be the way to go for your eclectic friend or family member. Verizon Wireless offers a variety of cases with original sketch designs, ranging from bicycles to tribal patterns.
With these gifts, you definitely won't be hearing, "This is so last year!" from anyone you know.
The Verizon Wireless "'Tis the Season for Tech Gifts" series provides holiday gift suggestions for everyone on your list this year.