What Your Teen Really Wants this Holiday Season
Helping parents determine the perfect gift.
According to a recent survey conducted by Ebates.com, nearly 90 percent of teens are hoping for some sort of tech gift this season like PlayStation 4 and Xbox One
But with all the gizmos and gadgets out there, which tech is right for your teen? The Verizon Wireless Get Hip zone has collected some of the hottest devices in the market to help you figure that out.
The HTC One max and Samsung Galaxy S4 mini are popular with teens who are into gaming, music, snapping pics or just checking Facebook hourly. The HTC One max features a 5.9-inch full-HD screen and dual front-mounted speakers with built-in amplifiers. The Galaxy S4 mini, meanwhile, boasts a Super AMOLED screen and an 8-megapixel camera that comes with a suite of included filters. You'll also want to help your teen personalize and protect his or her phone with a case, like a trendy Viva Snake Skin cover from Jennifer Lopez or a durable Commuter Series case from OtterBox.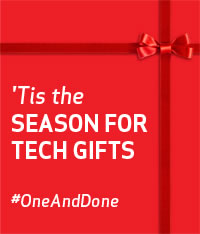 Looking for something truly cutting edge? The Samsung Galaxy GEAR smart watch is an innovative piece of wearable tech that can take phone calls and shoot video when synced to either of two of the latest Samsung smartphones.
For music lovers, Beats Wireless Headphones by Dr. Dre offer superior sound quality and 10 hours of battery life, while the Soundlink Mini Bluetooth speaker from Bose connects wirelessly to a smartphone and provides full, natural sound. Both are good options for parents with teens who continue to hog the stereo with Justin Bieber and Katy Perry.
And remember, a tablet can be used not just to watch movies or play games, but to tackle homework, as well. The Ellipsis 7 – with its 7-inch HD display, ample battery life and fast processor – is perfect for students on the go, and, honestly, have you ever met a student not on the go?
The Verizon Wireless "Tis the Season for Tech Gifts" series provides holiday gift suggestions for everyone on your list this year.