Holiday Tech for Toddlers
Gifts that combine entertainment and education.
In 1996, the electronic, giggling Tickle Me Elmo was the most desired toy of the holiday season. This December, mobile devices and accessories will keep your kids entertained and busy, offering a variety of activities for learning and having fun at the same time.
San Diego mommy blogger Nicole Kempka from Red Lotus Mama knows what to look for when shopping for age-appropriate technology for her daughter. "There are so many great apps for reading, math and science," she said. "My daughter loves reading on her tablet. She plays Math Dojo and Sudoku, and she loves finding hidden pictures, coloring and Toca Boca."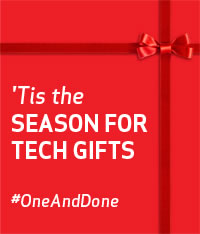 If you are seeking toddler-friendly devices, toys and apps, here are a few from the Verizon Wireless Have Fun zone to help foster a happy – and educational – holiday season.
While shopping for a new tablet for yourself, it's important to keep your little one's needs in mind. The new Nokia Lumia 2520 and iPad mini with Retina Display are practical options for kids and their parents. Both are thin and lightweight, making them easier for little fingers to manage. And Verizon's 4G LTE network makes streaming "Yo Gabba Gabba" a snap.
The Crayola DigiTools Deluxe Paint Pack is perfect for toddlers with artistic aspirations, letting them get creative with realistic digital painting. Better yet, it involves no cleanup. TheLeapPad Ultra is a good choice for kids who aren't quite ready for a tablet, helping them learn and be imaginative, and offering up dozens of activities you won't find anywhere else.
For budding music lovers, the iHome Rechargeable Speaker offers superior sound quality and includes color-changing LED that is perfect for an impromptu dance party. The device is small and portable, making it easy to pack for a holiday trip to Grandma's.
And finally, while you might have another decade or so before your little one starts asking for a car, you can give them a head start on driving with the GriffinMoto TC Rally. When paired with the MOTO TC Rally app, this pint-sized race car can be controlled with an iPhone, iPad or iPhone Touch, providing hours of cat-scaring fun for kids of all ages.
The Verizon Wireless "'Tis the Season for Tech Gifts" series provides holiday gift suggestions for everyone on your list this year.