Massachusetts Teen App Designers Have Their "ION" Chemistry Education
Westford Academy students to work with MIT on award-winning app.
When you think of chemistry class, you imagine a room filled with beakers, test tubes, Bunsen burners and bubbling solutions, right? But what if you didn't need those things to receive an interactive chemistry experience? That's what Massachusetts high school students Ryan Cole, Derek Feehrer, Michael Gillett, Kevin Zhang and Michael Colavita at Westford Academy hope to create as they develop the "Tactillium" mobile app.
The team of five students is one of eight "Best in Nation" winners of the second Verizon Innovative App Challenge. The program encourages middle and high school students to apply their science, technology, engineering and math (STEM) knowledge to develop a mobile app concept that addresses challenges in their schools or communities. Four high schools and four middle schools were named Best in Nation.
Selected from 1,300 teams across the country that participated in this year's competition, the students were tasked with creating an app designed to solve a problem in the community. Their app concept, "Tactillium," delivers chemistry simulations without the expense of equipment and materials. Once completed, the app will offer 3-D simulations of the experiments, chemicals and reactions that occur in chemistry labs, providing students with experiences that may not otherwise be available.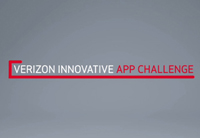 "The idea behind this was to bring a chemistry experience to people who might not be able to access it," said Cole, a senior on the team. "Younger kids, for example, might be eager to learn more about chemistry, but are unable to because these types of experiments can be very dangerous.
"Additionally, students in underfunded school districts may not have access to the resources necessary to explore chemistry because it is very expensive," Cole said. "It can also be used to augment chemistry learning in a safe environment, allowing students to explore and conduct experiments at home."
The team of students won a total of $20,000 in grants to help support STEM education programs at Westford Academy. The students and faculty advisor each received a complimentary Samsung Galaxy Tab courtesy of Samsung Telecommunications America. The winning team also met with members of the MIT App Inventor Training Corps to learn how to code and receive hands-on training in order to help them bring the app to market. The "Tactillium" team is scheduled to present the app at the June 2014 National Technology Student Association Conference in Washington, D.C.
In addition to Westford Academy, the other "Best in Nation" high schools include:
Bartlett High School – Bartlett, Ill.
North Hills Preparatory School – Irving, Texas
Helena High School – Helena, Mont.
This year's "Best in Nation" middle school winners include:
Cheney Middle School – West Fargo, N.D.
Jefferson Township Middle School – Oak Ridge, N.J.
Resaca Middle School – Los Fresnos, Texas
Open Window School – Bellevue, Wash.
For the 2014-2015 Innovative App Challenge, teams of five to seven students and a faculty advisor from any public, private or parochial middle can enter from August 4 through November 14.