Wi-Fi Syncing with iTunes - Apple® iPhone® 4S

Notes:
Wi-Fi syncing allows wireless syncing between iPhone and the computer to back up and sync to iTunes.
To verify the iTunes software version, refer to iTunes: How to find which version you are using for assistance.
Wi-Fi syncs over an enabled Wi-Fi network. For assistance with verifying that Wi-Fi is enabled on the device, refer to Wi-Fi On/Off.
Set Up iPhone to Sync Over Wi-Fi
Syncing from iPhone
Syncing from iTunes
Set up iPhone to Sync Over Wi-Fi
Press the Power button to power iPhone on.

Connect iPhone to the computer using the supplied USB cable.
When tethered, iTunes opens automatically on the computer.
In iTunes version 11, click the iPhone button in the upper-right.
For iTunes version 12 or higher, click Summary.
If prompted, download the latest version of iTunes. Refer to Install System Updates - iTunes for additional assistance.
From (Summary) > Options ensure Sync with this iPhone over Wi-Fi is checked.
Click Sync.
If Sync is not available, click Apply.
From the home screen, select Settings.
Select General.
Select iTunes Wi-Fi Sync.
Select Sync Now.
It may take several minutes for the device to begin the sync process.
Once syncing begins, a revolving arrow appears in the menu bar (located in the top-left corner).
A Syncing Media status bar appears on the screen.
Once syncing is complete, the time of the last sync is displayed.
Sync Method 1
Sync Method 2
From the iTunes menu, click File then click Sync.


For iTunes version 12, click File > Devices > Sync.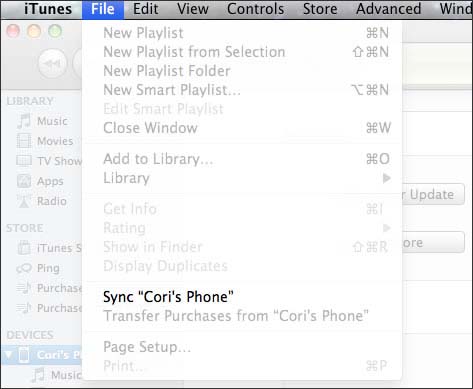 From iTunes, click Sync (located in the lower-right).
Last Modified: October 24, 2014