Volume Controls - Nokia Lumia 822
Adjusting volume controls can help if you're not getting notifications/ringing/vibrating when receiving calls/texts/emails. Our Troubleshooting Assistant can help you with other device issues if you aren't currently using the tool.
To adjust volume, press the appropriate volume button (located on the left side)
up
or
down
.

To manage ringtones & sounds, refer to
Alerts
for further assistance.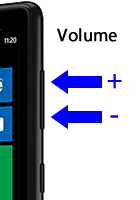 Last Modified: December 5, 2013