DROID DNA Smartphone Software Update Benefits
Verizon Wireless is pleased to announce enhancements to HTC Sense 5 that will improve the performance of your DROID DNA smartphone. Below is an overview of the key areas of improvement:
Top
MonthView Enhancement

See the agenda next to the Monthly view in landscape mode

Week View Enhancement
Top
With BlinkFeed, you can personalize your Home screen with information and updates that matter to you. See a variety of content such as news feeds, social network updates, tips, and more.
Customize Blinkfeed with content like news sources, or by category like Entertainment

Touch tile to view more details, or to comment on a post/status update

Scroll to the top of your Blinkfeed, then pull down to manually refresh content stream

Filter your feeds to show only one news source, or social network by selecting it in the Highlights drop down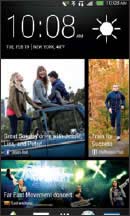 Top
GALLERY
Events View
The device automatically creates a 30 second video based on clips and pictures of an event. Simply tap the video to play.

Tap the Themes button

Choose from 12 Themes, each offering a different musical Theme and video editing style created by professional editors

Tap the Remix button

Show a different variety and order of pictures and clips

Tap Specific Pictures

Select specific pictures to be part of the video highlights by tapping the photo in full view, then tapping the Highlight button
Tap and hold (long press) on an event and you will see options to delete, merge, split or rename
Select 'Merge To' to combine the entire event.
Select 'Split To' to split an event then select videos and pictures for your new event.
Top
QUICK SETTINGS
Top
NEW SMART DIALER
Most Sense 5 apps allow you to swipe left or right then tap the name of a tab (like Phone, History or Favorites

Some apps that have different screens swiping left or right, will use a drop down button to change tabs and views (Calendar for example)

Dialer now shows only the last call dialed (just tap to call)

Call button is disabled by default until you start dialing

When you start typing a phone number, the device indicator shows how many contacts match

If the contact that appears is not who you want to call, press the indicator to reveal the rest of the contacts that match

Press the full QWERTY button to use the keypad to search contacts by letters
Last Modified: February 4, 2014