View the Device ID (ESN/IMEI/MEID) - Nokia Lumia Icon
From the Start screen, swipe left to display the apps list.
Alternatively, tap the right arrow (located in the lower-right; may require scrolling to the bottom of the Start screen).
Tap Settings.
Tap about.
Tap more info.
View the IMEI.

Remove the SIM card
then view the IMEI inside the battery compartment.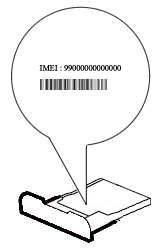 Last Modified: August 18, 2014