Check Your Gift Card Balance
Check the balance of your Verizon Wireless or Alltel gift card. Please note that only Verizon Wireless gift cards can be redeemed for online purchases or bill payment at VerizonWireless.com. At this time, Alltel gift cards must be redeemed at a retail location. Visit our store locator to find a store near you.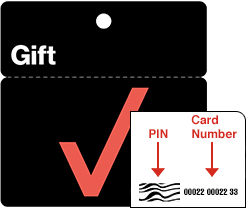 Need to Purchase Gift cards?
This gift card can be used to buy merchandise & services at stores/kiosks operated by Verizon or at verizon.com. Gift cards cannot be used at Verizon Authorized Retailer locations. Gift cards can be used to pay a Verizon Wireless or Fios bill by visiting Verizon.com or using the My Verizon app (wireless bills only) or My Fios app. Do not mail card with your bill. For card balance call 1.800.876.4141 or dial #GIFT (#4438) from your wireless device. Gift cards are non-refundable and cannot be returned for a cash refund, except in those states as required by law. Purchase & use of gift card constitutes acceptance of all terms & conditions. Treat this card like cash, Verizon is not responsible for gift cards that have been lost, stolen, or damaged. Gift cards do not expire and are not subject to dormancy or other fees. Gift cards may not be used for resale, advertising, marketing, sweepstakes or other promotional purposes without consent.