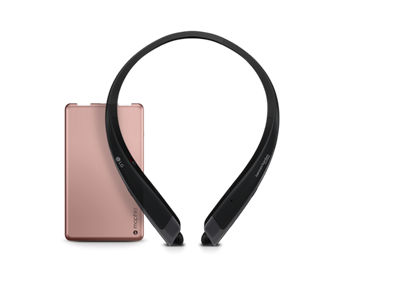 08-01-2016
Spotlight on mophie powerstation 3X and LG TONE PLATINUM
Today's busy lifestyles typically have us running from one place to another with rarely any down time. Whether rushing from work to the gym or from summer camp pick up to an evening outing with your besties, we're on the move for a large part of the day.

Two products that thrive on activity and are worth checking out are the LG TONE PLATINUM and mophie powerstation 3x.


mophie powerstation 3X: Never have to worry about that low power bar again.
Our many power-hungry devices are bound to be along for the ride on this crazy journey called life. With little down time, the chances of forgetting to charge our devices is real. Enter the mophie powerstation 3X. Exceptionally thin and with no additional wires, mophie is slim enough to fit in your bag or even your pocket to keep your devices charged while on the go.

The battery pack's 6,000 mAh capacity has the power to charge your smartphone up to three times. More than one device to charge? Take advantage of the powerstation's dual 2.4 amp outputs to quickly charge both at once.

If both your battery pack and your device need to be charged, you can rely on Priority + Charging. The powerstation 3X first charges your device, then restores power to the battery pack. Your device is given charging priority, so it is ready to go when you need it.


LG TONE PLATINUM: Luxury on-the-go sound for work and play.
Headphones aren't just for listening to music anymore, although this headset does in fact deliver extraordinary wireless sound. In addition to offering an exceptional audio experience, the LG TONE PLATIMUM™ Bluetooth Stereo Headset also lets you manage your calls and lets you do so quickly and easily.

Place this premium headset around the back of your neck and then go about your day. The LG TONE PLATINUM is lightweight and comfortable to wear with ear buds that retract back into the headset when not in use. The anodized, brushed, aluminum alloy trim design makes this headset stand out as a truly premium audio accessory.

When you're ready to be transported to another musical dimension, rely on this stylish headset to deliver an extraordinary acoustic experience over Bluetooth®. Thanks to Harman Kardon® Platinum Sound and Qualcomm® aptX™ HD, as long as you're within 33 feet of your connected device, you'll enjoy every note and the refined, full-bodied sound and rich bass of your favorite music.

Should you decide to make or take a call, rest assured the TONE PLATINUM will provide clear calling on both sides of the conversation thanks to noise-canceling, dual MEMS microphones.

TONE PLATINUM also boasts some awesome stats. This premium headset provides up to 10 hours* of listening time, up to 11* hours of talk time and up to 17.3 days* of standby time. Charging time is less than two hours.

*Actual battery time may vary depending upon network connectivity and application use.