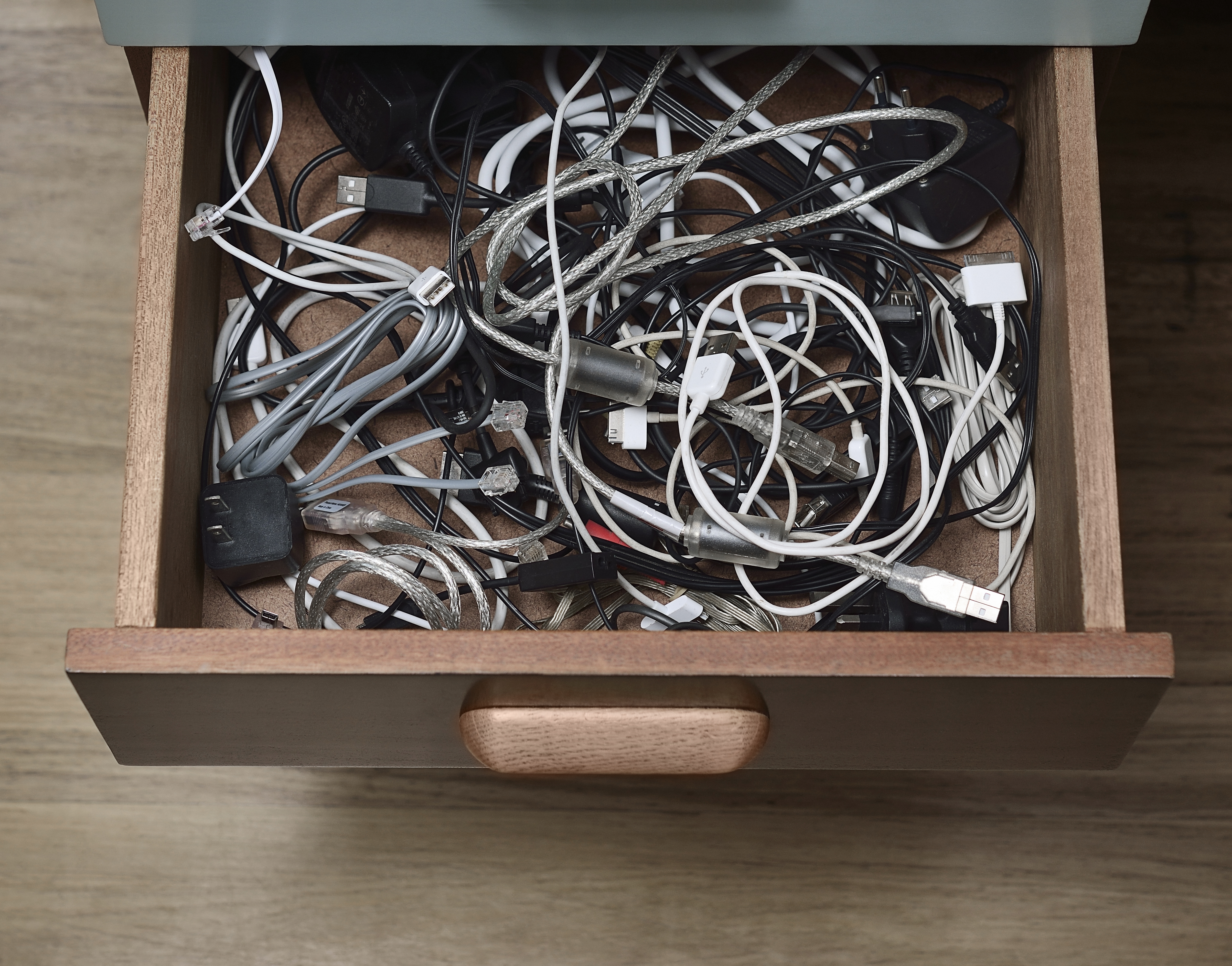 05-31-2016 AUTHOR : Verizon / Source : Verizon
Eight essentials for your tech junk drawer
Since the smart device revolution, your smartphone, tablet and wearable tech have become an essential part of your day-to-day routine. These gadgets, however, typically come with a whole posse of charging accessories and data cables that fill up your junk drawer. You can keep charging simple; here's a breakdown of the eight key cables and adapters you need on-hand to make sure your devices are always powered up.

Fast power: Verizon Wall Charger with Fast Technology for micro USB
Time waits for no phone. When the meeting starts in 30 minutes, or you're already running late, turn to the Verizon Wall Charger with Fast Charge Technology for micro USB. It gets your smart device up and running up to 75 percent faster.* Its micro USB format makes it a jack of many kinds of phones.

Charge and sync: Verizon Braided Charge and Sync Cable for micro USB
On your quest to declutter the junk drawer, turn to multi-function cables like the Verizon Braided Charge and Sync Cable for micro USB, which syncs your device while powering it up. This one was made for the junk drawer -- its eye-popping colors like pink and gold stand out, and its braided construction makes tangling a non-issue.

Ready to rock: Belkin Family Rockstar
You have a tablet for streaming and sharing; your wearables for fitness tracking; and your smartphone for just about everything. And so does everyone else in the room. When they all need power, the Belkin Family Rockstar is your high-tech junk drawer standout. Not only does it provide four USB charging ports, its intelligent chipset automatically recognizes devices to deliver power in the fastest, safest way possible.

Future proofing: Verizon USB Data Cable for USB-C
When you think of a USB cable, you're probably thinking of the standard USB-A port. But the new USB-C allows for significantly faster data transfer and more efficient charging.2 The reversible plug with the Verizon USB Data Cable for USB-C means you can connect your USB-A (standard) and USB-C devices without a hassle. Because it's reversible, you save yourself from guessing at the "right way" to plug it in. Think of it as a bridge from the past to the future that leaves no device without power.

On the go: Verizon Travel Charger for Apple Lightning
Whether you need your GPS or just want to stream a playlist to your Bluetooth car stereo, you're going to need to charge your smartphone on the road. Just open your utility drawer and grab your certified, 6-foot Verizon Travel Charger for Apple Lightning to keep the whole iPhone and iPad family trucking.

Lightning strikes: Apple Lightning to USB Cable
Just as sure as your friends are going to ask you for your Wi-Fi password time and again, someone's going to bring their Apple Lightning device over without a charger. Don't fret, just dip into the junk drawer and hand them an Apple Lightning to USB Cable. As long as you have a free USB port on your computer, TV or gaming system, they have power.

Observe and adapt: Apple's 5W USB Power Adapter
When you have a house packed full of smartphones, you're going to run into a USB port shortage eventually. That's where Apple's 5W USB Power Adapter comes into play. Use it with your Lightning to USB Cable to plug those Apple devices right into the old-school wall socket.

To complete the ultimate junk drawer, top off your collection with a versatile battery pack. When you're ready to take your charging game to the next level, get it at Verizon.
*Qualcomm Quick Charge 2.0 (5V/9V) device is required to experience up to 75 percent faster charge rates.

References:
1. Harris Communications: How Cellular Reception Works: http://harriscommunications.com/wireless-phone-reception
2. CNET: USB Type C One Cable to Connect Them All: http://www.cnet.com/news/usb-type-c-one-cable-to-connect-them-all/