Verizon Wireless supports the domestic violence prevention and awareness efforts of law enforcement and government agencies in communities nationwide through donations of wireless phones, prepaid airtime and BroadbandAccess (high-speed Internet) service and funding.
Safety & Prevention
HopeLine has donated BroadbandAccess service to government employees involved in investigating incidents of domestic violence to improve their effectiveness in the field, and given phones programmed to dial 9-1-1 to the local police department or community criminal watch groups to make it easier for victims to make calls in emergency situations. HopeLine also supports counseling programs and other initiatives designed to bring attention to the issue of domestic violence, its causes and prevention.
HopeLine Law Enforcement Partnership Award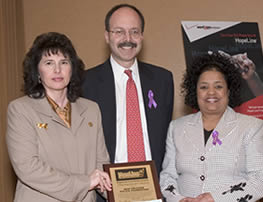 Verizon Wireless recently launched the national HopeLine Law Enforcement Partnership Award, which honors the efforts of public safety organizations across the country committed to reducing domestic violence, providing support to victims, raising awareness of the issue and educating communities about domestic violence.
The inaugural award and a $10,000 financial grant were presented to the New Orleans Police Foundation in March 2005.
Additional Program Activities
In Los Angeles, the City Attorney's Office received BroadbandAccess data cards, along with two years of free service, so its child abuse prosecutors can be more efficient and productive in the field.
In New York, Verizon Wireless donated 25 wireless phones to the Manhattan District Attorney's Witness Aid Services Unit and pledged $100,000 in HopeLine funds to support the operations of the New York City President's Family Justice Center, which gives domestic violence victims access to services.
In Pennsylvania, Verizon Wireless supported a program in Allegheny County that helps domestic violence victims more easily obtain Protection From Abuse (PFA) orders.
In Virginia, Verizon Wireless partnered with the Attorney General's office to sponsor an ongoing recycling drive that resulted in more than 1,200 no-longer-used phones being collected.
In Massachusetts, Verizon Wireless donated 30 wireless phones to the Suffolk County District Attorney's office; and the Boston Police Department's Property Management Unit has donated all lost or stolen wireless phones collected - an estimated 500 to date - to HopeLine.
In Utah, the state attorney general worked with Verizon Wireless to raise awareness of domestic violence issues and called on Utah businesses to collect used wireless phones for HopeLine.