Business
plans
Running a business isn't simple.
But choosing a wireless plan is.
Consult with a business rep now at 800-526-3178.
Verizon Plan for Business.
Share data with up to 25 lines.
All plan sizes include these features:
Unlimited Talk & Text
Talk and text all you want, every minute and message is included.
Mobile Hotspot
Turn your device into a hotspot to provide Internet access to other devices.
Unlimited International Messaging
Send unlimited messages from the US to over 200 countries worldwide.
Carryover Data
Carryover your unused data and keep it until the end of next month, so you never waste a gig.
Mexico & Canada service
Call and text anyone in Mexico & Canada, and use your phone in Mexico & Canada like you would in the US.
Safety Mode
Stay online at a reduced speed even after you've used all your data for the month.
Data Boost
Buy data on demand whenever you need it with Data Boost.
Shareable Data
One data pool for all your phones, tablets and other Internet devices.
Pick your plan size
Our plans are built to fit your business needs, each with more data and unlimited Talk & Text.
All plan sizes include:
Carryover Data
Safety Mode
Calling to and from Mexico & Canada
Use your device in Mexico and Canada
Data Boost $15/1 GB
Add smartphones,
tablets and more.
Add a smartphone
$15/mo
$35/mo when purchased with a contract at a discount.
Add a tablet or hotspot
$10/mo
Add a connected device
$5/mo per device.
Discounts are applied to monthly account access fees on eligible plans (excluding unlimited) and features, subject to restrictions. Monthly access fees are not eligible for discounts. 1-year and 2-year smartphone and basic phone pricing is not available for new activations/upgrades for lines on the Verizon Go Unlimited and Beyond Unlimited Plans. $40 Smartphone Line Access applies to lines migrating to the Verizon Go Unlimited and Beyond Unlimited Plans while still under a prior 1- or 2- year contract.
More plan options on the best network.
International Services
Connect from abroad or to 200+
countries while in the US.
Learn more
Machine to Machine plans
Collect and monitor data with
remote assets.
Learn more
More businesses choose Verizon than any other wireless carrier.
We have coverage
where it counts.
When it really matters, we're right there
with you. We cover over 322 million
people, which is more than 98% of the
US population.
Learn more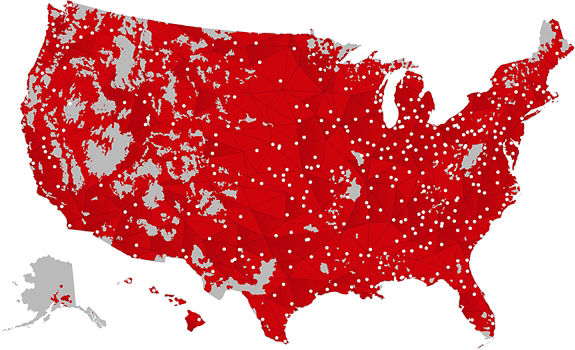 Get started today.
To learn how we can help your business, just reach out: