Improve your online presence.
Take control of promoting your business and create a consistent experience online with Yahoo Small Business Localworks—created specifically for small businesses.
Localworks gives you the tools to create and edit information about your company and then publish it across the web. It provides:
Promotion and local marketing tools that help you manage and enhance your business listings across 60+ online local directories.
The ability to easily edit your listings and publish changes across the web.
Tools to add photos, videos, menus, special offers, promotions and other content to your profile in order to inform and target customers and make your listing unique.
A platform built for your budget—with great deals and offers available.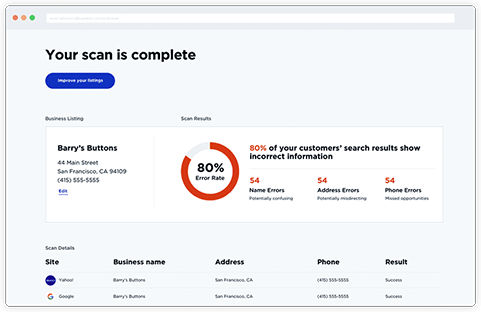 50%
of local searches on mobile result in a visit within 24 hours.1
2.7x
Businesses receive 2.7 times more traction from online listings across maps, social media, search engines and apps than they do from their own websites.2
1https://www.thinkwithgoogle.com/advertising-channels/search/how-advertisers-can-extend-their-relevance-with-search-download/
2https://www.entrepreneur.com/article/293806
Trusted business partners
to help grow your business.
When you choose Localworks, you'll get:
A trusted partner to help you grow your online business.
An intuitive dashboard to manage all your internet listings at once.
Get Discovered Online with Localworks
Be found across 60+ Internet directories with Localworks - optimize your listings from a single dashboard.
Give us a call.
Call us at 800.526.3178 and talk to a specialist today.