Verizon is #1 where it counts the most.
According to RootMetrics©, the largest independent third-party tester of wireless network performance, Verizon is #1 in speed, data, reliability and overall network performance in the U.S.
And after 3,851,608 tests, 239,941 miles driven, and 6,607 indoor locations tested, you can safely say they've done the research to prove it.
See the report
Rankings based on the RootMetrics US National RootScore® Report: 2H 2015. Tested with best commercially available smartphones on four national mobile networks across all available network types. Your experiences may vary. The RootMetrics award is not an endorsement of Verizon. Visit www.rootmetrics.com for more details.

©RootMetrics 2016. All rights reserved.
Verizon was ranked "Highest in Wireless Network Quality Performance across the Nation" for the third time in a row by J.D. Power.
When more than 40,000 wireless customers were surveyed in six regions across the country, Verizon Wireless ranked highest in all six regions.
Six out of six isn't bad.
See the press release
Verizon received the highest numerical score among wireless service providers in the J.D. Power 2015 (V1 & V2) & 2016 (V1) Wireless Network Quality Performance Studies. 2016 Vol 1 study based on 41,400 responses throughout the North Central, Southeast, Northeast, Mid-Atlantic, Southwest, and West regions, measuring user experiences and their perceptions of service quality, surveyed July-December 2015. Your experiences may vary. Visit jdpower.com.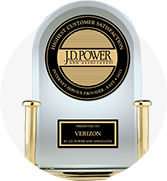 When customers feel the difference between our network and the competition, that's when better really matters.
Verizon has ranked #1 in network performance satisfaction for 33 consecutive quarters, based on analysis of the latest data from Nielsen.
That means for eight years running, customers have been happier with Verizon's network performance.
Based on Verizon's analysis of Nielsen's Mobile Insights survey data, which uses respondent's self-reported rating (1 to 10 scale) of network quality satisfaction with their carrier. The underlying source data is an estimate based on a national survey of 90,000 quarterly mobile phone users between Q1 2007 and Q4 2015.