Euro Cup 2012 on the Go
Stay up to date on 2012 UEFA European Football Championship this summer.
The 2012 UEFA European Football Championship, also known as the Euro Cup 2012, is in full swing, giving soccer fans a great opportunity to see many of the world's best players on a grand stage.

The tournament, which runs through July 1, features national teams from 16 European nations. The winner of the tournament gains automatic entry to the 2013 FIFA Confederations Cup hosted by Brazil.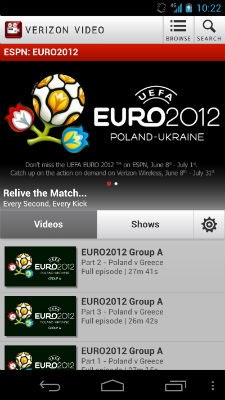 Many of the games occur during the middle of the day on the East Coast or in the morning on the West Coast, while many U.S. fans are on the go and not able to watch the games live.

But no worries, there plenty of ways to catch video of the complete games, watch highlights or stay up to date with scores as they happen on your smartphone or tablet.

For those looking for video of the games, you can catch full broadcasts of games through Verizon Video. Broadcasts are available in both English and Spanish.

If you simply can't wait to find out the results, the ESPN ScoreCenter app has up-to-date scores and the latest news on the Euro Cup and many other sports.

And, for the soccer fanatic, test your knowledge with the Soccer Players Quiz app. With the app, you'll be able to measure your performance against other players. It also lets you know what percentage of players answered a particular question correctly.

Don't let game times keep you from staying up to date on the latest from the Euro Cup.