Outfitting the Connected Pet
Wearable tech has gone to the dogs.
Does Fido need a FitBit? Does Gus need Google Glass? There's no debating that wearable tech for humans is hot — more than 17 million wearable bands alone are expected to ship in 2014. Now, you can put wearables to work for your pets.
As a pet owner, if you've ever wondered, "What did Winston do all day?" or "I wonder if he's feeling up to snuff?" wearable tech might give you the answers you're looking for. Companies like Tagg, Whistle, FitBark and Voyce have developed wireless pet trackers that attach to a pet's collar to help you monitor your pet's health, activity level or whereabouts. And with Americans spending more than $55 billion a year on their furry friends, these companies are not just riding the wearables wave; they're tapping into a thriving pet industry.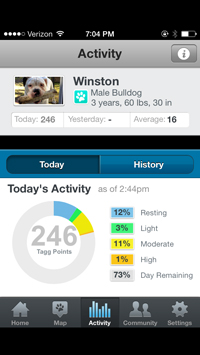 These connected devices capture data that provides you with vital information and tools to help keep your pooch safe and healthy. Through a Wi-Fi or wireless network connection — like Verizon Wireless' 4G LTE network — data is transmitted to a dashboard for viewing via a smartphone app or online. By tracking data like heart rate and resting length, you can spot potential health problems early on, or simply learn that your dog needs to go on more walks. It's also valuable intel for the vet.
As companies develop wearable tech devices for dogs — and their owners — it is important to choose the right ones. The new Verizon Wireless Destination Store at Mall of America and Smart Stores feature mobile lifestyle zones that help you discover wireless technology to support a healthy lifestyle — for both you and your canine. Connected devices like Tagg – The Pet Tracker use GPS location and wireless technology to help you find your lost pet.
What do you think is next in the pet wearables space? Share your thoughts on Twitter at@VerizonNews or @VZWheidi.