Student Cures Homesickness on a Budget
Sandra Perez ditched international calling cards for a more affordable connection.
Living in Los Angeles, foreign student Sandra Perez is often homesick. She misses her parents, close friends and the familiarity of the Mexico City neighborhood where she was raised. That's why she cherished weekly phone calls with her parents that allowed her to reconnect and feel closer to home. But relying on international calling cards and a landline phone proved an expensive challenge.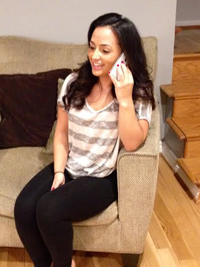 "I had to schedule my calls back home," said Perez. "I would use Facebook when I had access to a computer to let my parents know when I would be calling them. Then, I would purchase my calling card and ask to borrow a friend's landline to make my call. It was really inconvenient." She also found the process unreliable – faulty codes in the cards were common and prevented her from making a landline-to-landline call at all. She also discovered that using a phone card to call her friends' cellphones was very expensive.
"It was annoying not having as much time on the calling card as I thought I had because it was more expensive to call their cellphones." On a student's budget, it was a lot of money, and because she couldn't call her friends often, she got even more homesick.
Her solution? She ditched the cards and switched to Verizon Wireless, where she was able to save money with the MORE Everything plan. Through the company's World Messaging Unlimited plan, her calls to Mexico are just one cent per minute, and she's enjoying unlimited international messaging with her friends and family. Perez also finds the Verizon Wireless network to be reliable for her calls and texts to her friends and family.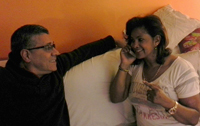 "Communication with my family is now a lot easier and more frequent since signing on with Verizon," added Perez. "I'm loving just being able to pick up my cell and calling or texting."