$10,000 HopeLine Grant to Fund Outreach to Hispanic Community and Teens in Ulster County, N.Y.
Verizon Wireless recently presented a grant to Family of Woodstock, Inc.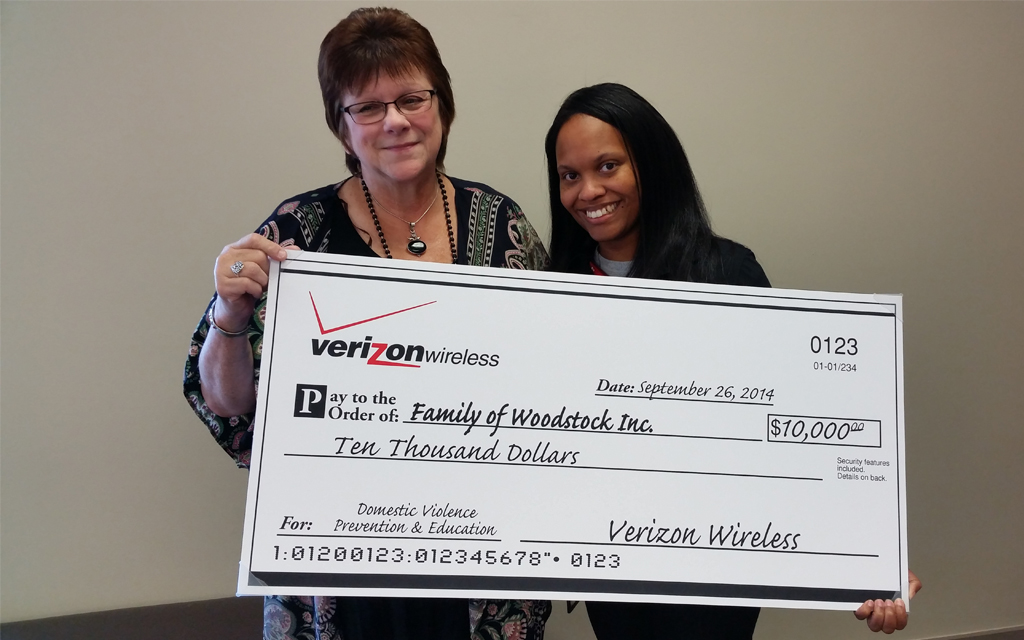 Verizon Wireless recently presented a $10,000 HopeLine grant to Family of Woodstock, Inc. to help fund the organization's domestic violence outreach to the local Hispanic community, and to middle and high school students in Ulster County, New York. The presentation took place at the company's Kingston, New York store.
Family of Woodstock's domestic violence program aims to inform the local community of the extent of domestic violence in Ulster County and the damage it inflicts on families; to help potential victims recognize the signs of domestic violence and the precautions they can take; and to provide counseling, shelter and other services to those who find themselves in a violent situation. The HopeLine grant will help the organization expand its outreach to two segments of the community that are underserved or require specialized outreach: the Hispanic community and teen population.
The grant is part of Verizon Wireless' ongoing efforts to support the victims and families of domestic violence in our communities and the organizations that serve them. Since 2001, Verizon Wireless has donated more than $21 million in cash grants to partner agencies.