A Father's Challenge to His Son Helps Create a Million Dollar Company
Peter asked Hans to develop a product for the oil and gas industry that would recover natural gas in oil tanks.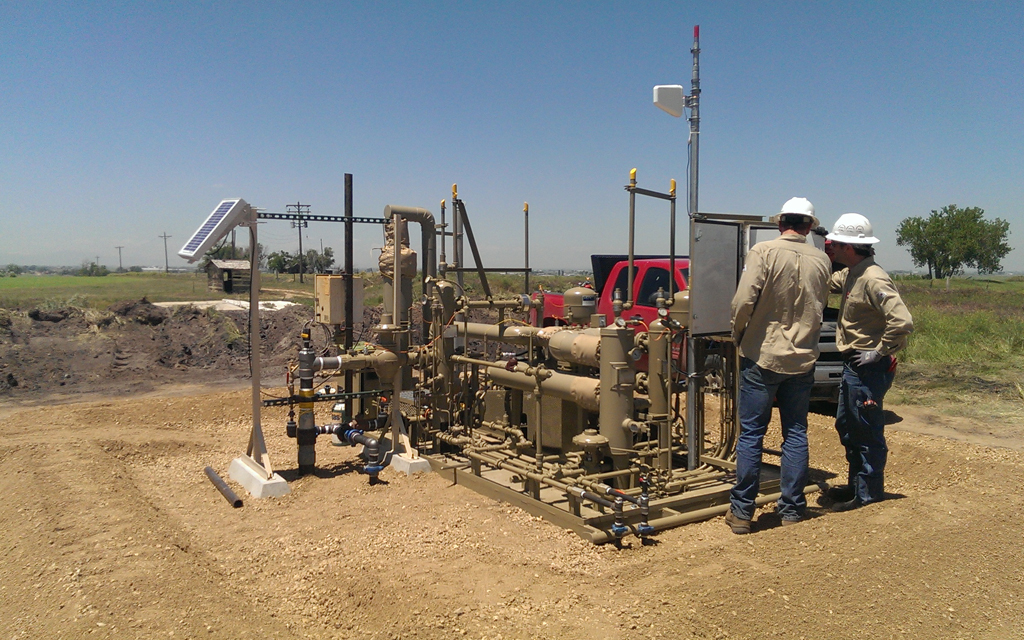 Peter Muller was proud of his son, Hans, when he graduated from the Colorado School of Mines with a degree in engineering. In an effort to put that degree to work, Peter asked Hans to develop a product for the oil and gas industry that would recover natural gas in oil tanks.
The challenge in recovering the gas is that oxygen can build up in the holding tanks. This oxygen comes from the atmosphere when it seeps into the tank through valves, seals, or the "thief hatch," which is often opened to check the oil levels in the tank. Oxygen makes the natural gas unfit for sale in a pipeline. In the past, companies have often vented the oxygen, and often methane gas, into the atmosphere, or burned it in a flare.
"Peter saw venting and burning as a tremendous waste of a natural resource, and not to mention, it's not a great environmental solution," said Ben Turner, vice president of business development at EcoVapor Recovery Systems.
Hans gathered enough parts to build a prototype for what he later called the EcoVapor Recovery System (ERS) unit. The ERS unit is placed between the tank and the burner. The natural gas runs through the ERS unit and is put through a chemical process to remove the oxygen. Once it is taken out, the gas is put into the pipeline to be sold.
"If it was as simple as taking the gas out of the tanks, everyone could do that with a compressor," said Turner. "We have figured out a way to remove the oxygen and recover over 99 percent of the natural gas."
Hans and Peter reached out to contacts at Noble Energy in Denver who agreed to put the ERS unit on a location in Colorado. Soon after, an order was placed for 20 units. But as soon as the ink dried on the contact, the industry began to change. Oil companies started to shift from directional drilled wells to horizontal drilled wells, which changed the oil and gas flow rates.
"This really forced Hans to go back to the drawing board and readjust the product," said Turner.
Regulations around venting and burning methane gas were also changing. The state of Colorado and the federal government passed various pieces of legislation to curb methane emissions. Turner says the new ERS units help ensure companies stay in compliance with legislation and regulations.
"It's nice to have an environmentally friendly piece of equipment that can also generate revenue at the same time," said Turner.
The ERS unit can also help oil and gas companies monitor their locations. It transfers information back to ERS operators through Verizon Wireless' 3G and 4G LTE networks. Based on the information received, ERS operators can see if conditions change or if units are down. Remotely, ERS operators can reprogram equipment, remotely shut down equipment or send crews out for repairs.
"I've seen our crews diagnose and fix units while sitting in the office, rather than driving out to the field, said Turner. "It is essentially a cost savings for us, which is key as we continue to grow."
ERS currently has over 30 units under contract across Colorado and Oklahoma. The Denver-based company is working on "targeted growth" but says using Verizon Wireless' network is a differentiator over the competition.
"For us to be able to tell clients we can remotely monitor all of this equipment for the company is a great sales tool," said Turner.

Meagan Dorsch is a public relations manager for Verizon Wireless. Follow her on Twitter at: @VZWMeagan.