Even a Fall on Pikes Peak Didn't Stop Her
One woman is feeling very lucky to be alive
2014 had already been a tough year for Sarah Bonam, even before she decided to hike Pikes Peak in October.
"It was filled with a lot of change," said Bonam.
The 36-year old yoga and fitness fanatic had been shocked by a diagnosis of Multiple Sclerosis. Later, she went through a divorce and moved to a new state for work. A few days after her October birthday, she decided to take a vacation in the mountains near Colorado Springs.
"I just needed to reset and I wanted to hike Pikes Peak before my body isn't able to," said Bonam.
An avid outdoor enthusiast, Bonam felt confident the morning of the hike.
"I had an amazing morning and the weather was gorgeous!"
About half way up the mountain trail, she stopped to take a quick selfie on her Verizon phone to send to friends and family.
"I was feeling really great about the day and was ready to go. It's tough to look at that photo now and realize what happened just moments later."
As she climbed to around 13,000 feet, snow and ice covered a portion of the trail, making it difficult to follow.
"There are places where the trail is barely wider than your foot and you are literally stepping in other people's footsteps, hoping they went the right way."
Bonam doesn't remember if she placed her foot incorrectly, but vividly recalls losing her footing and sliding down the side of the mountain.
"I slid a long way. The entire back of my pants was ripped away and my skin was shredded by the rocks and snow."
Her leg slammed against a rock and she frantically dug her hands and feet into the snow and ice to stop sliding. Once she stopped, she realized she was severely injured.
"My right foot would not support my weight and I was pretty shaken up. I remember thinking, what just happened and how?"
She assessed her situation and knew she needed help.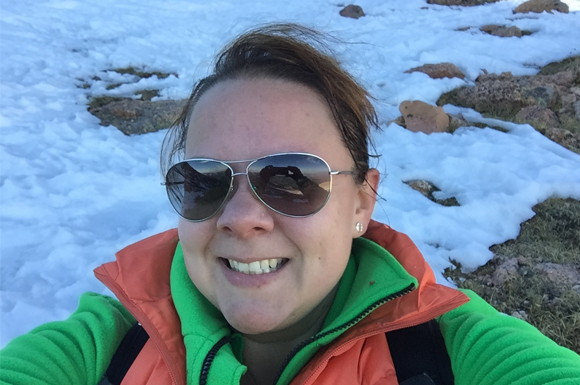 "Needless to say, when I saw my Verizon phone had service, I was thrilled. And when someone picked up on the other end of the call, I was relieved! I knew my chances of being OK went up at that point."
Bonam and first responders knew time was of the essence. The afternoon Colorado sun was quickly setting and temperatures were plummeting.
"I did not have enough clothing or shelter to survive the night."
She stayed on the phone with 9-1-1 for more than two hours as rescue crews descended from the top of the mountain, and a helicopter was sent to airlift her to safety.
As the three-man rescue team approached, one of the men slipped in almost the same spot, and was injured. She was no longer the only person who needed rescue.
"By that time, I had lost all feeling in my extremities."
It took an hour to walk to the helicopter which was forced to land more than a mile away because of the steep terrain.
"We made it. It took some yoga breathing and a serious pep talk, but we made it."
At the hospital, doctors explained that she had second and third degree skin loss, minor frostbite and a dislocated ankle.
"I'm far luckier than I could ever have asked for," said Bonam. "And I cannot emphasize enough; it is my phone that saved me. Without it, I would not be here."
Today, recovery comes one step at a time.
"Some days I feel great, some days I don't feel good at all. Overall, I'm making good progress. You have to move forward and take steps towards normalcy, whatever that normal is moving forward."
In time, she hopes to teach spinning and yoga but has no desire to return to mountain climbing.
"My ego took a hit that day, but I also learned I don't need to prove anything. I knew I was up for the challenge…I would have made it. I would have been ok. It was an accident and I got lucky. I don't need to test that again."
Bonam says family and friends often ask if she feels lucky her mobile phone had a signal.
"And I am, I really am! I'm so very fortunate. I have been a Verizon Wireless customer for more than 13 years. I am very lucky I chose the company I did all those years ago."
And lucky to be able to share her story today.
"There are not adequate words to express how thankful I am to everyone involved. I am here really because of Verizon Wireless and its employees. All I can say is thank you."
Meagan Dorsch is a public relations manager with Verizon Wireless. Follow her on Twitter at: @VZWMeagan.
Laura Merritt is a public relations manager with Verizon Wireless. Follow her on Twitter at:@VZWlaura.