Patriot Award for Oregon Store Manager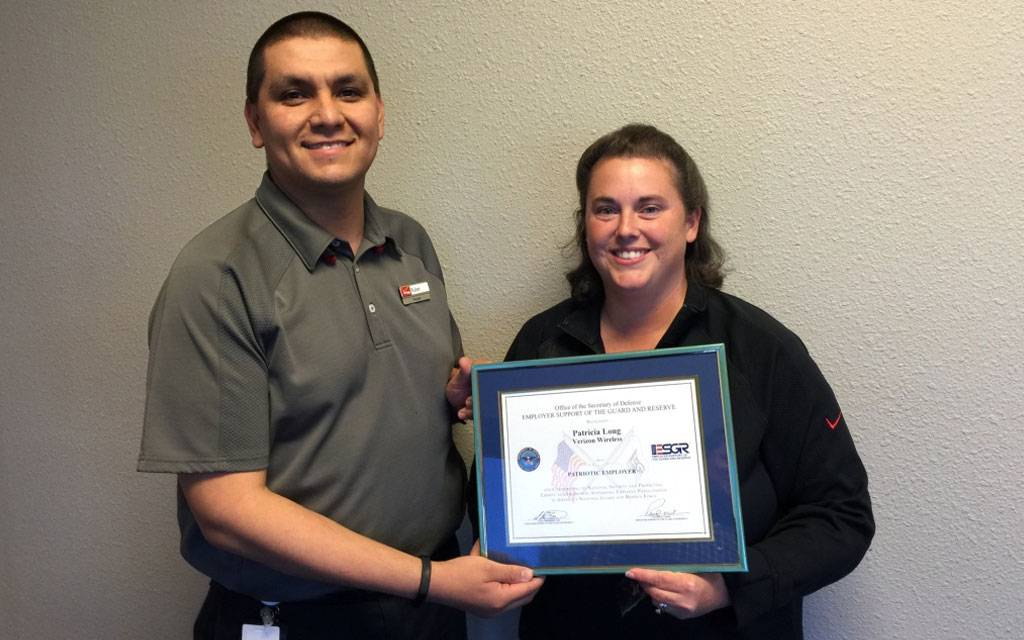 Four years ago, Ruben Trejo began to think his military experience and commitment to the Army National Guard and Reserves was a hindrance as one employer after another denied him a job. Since reservists must serve military deployments ranging from a few weeks to a few years, some employers shy away from hiring them. An Army Medic, Ruben is deployed by the Oregon National Guard five or six times per year; with assignments ranging from three-day weekends to six weeks spent far from home.
The stress of being unable to find a job and a lack of family support left Ruben bearing the weight of the world before he applied at Verizon Wireless. Often recognized as a top employer of veterans, Verizon recruits those with military experience since "we share many core values" including dedication to teamwork, fostering diverse skills and developing leadership qualities.
Once Ruben discovered Verizon had a positive view of military service, he clicked with the HR team in the Pacific Northwest and soon was working in retail sales in Keizer, Oregon. Under the leadership of store manager Patty Long, Ruben is encouraged and motivated to step outside his comfort zone, accept new responsibilities and be of service to customers and fellow employees. "Since the first day I met Patty during my hiring interview, she recognized my service and expressed support and admiration for what I do for the Army," Ruben explains. "She knew from day one the challenges that my service would bring to the store but hired me anyway."
In 2012, Ruben used his Army Medic skills after a worker at a store nearby rushed into Verizon asking if anyone knew CPR. Ruben and two co-workers leapt into action, running to the crisis and helping save a seizure victim.
Ruben credits Patty for much of his success. "She has not only supported and encouraged me to follow my passion in the Army but also in my career with Verizon. Patty has always pushed me to be better and to grow into a leader."
After learning a great deal about Verizon and retail and earning a few promotions, Ruben decided to nominate Patty for the Patriot Award. It is a rare honor from the Department of Defense given to those who provide exceptional support of members of the guard and reserves. Ruben is now a Solutions Manager at the Verizon store in Albany, Oregon.
Because of their great teamwork, Patty and Ruben are #Proud2bVZW
Click the link for Patty's Instagram message: https://instagram.com/p/5tF5hDKu07/
For more information on Verizon's commitment to veterans, click here: http://www.verizon.com/about/careers/we-salute-you