Doing epic things in education in Idaho
Middle schoolers in West Ada receive tablets thanks to a Verizon Innovative Learning Schools grant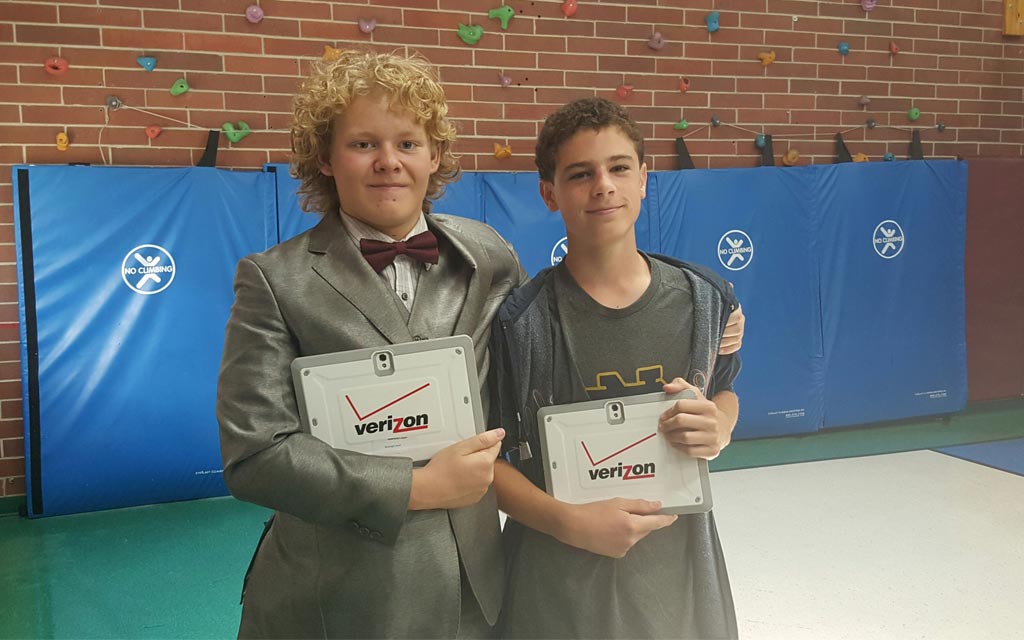 Jared, an eighth grade student at Crossroads Middle School in Meridian, Idaho, decided to wear his best suit to school to match his brand new tablet.
"Today is pretty cool," said Jared as he showed off his new tablet at a recent all-school assembly packed with students, staff, parents and local dignitaries. Jared was one of roughly 1,300 students from three middle schools in the West Ada School District to get a connected tablet as part of a Verizon Innovative Learning School (VILS) grant. According to Superintendent Dr. Linda Clark, the VILS grant marks the first one-to-one technology use in the district.
"Giving all students access to technology is an important part of this grant," said Dr. Clark. "The entire country is now watching what we do with these devices. But we have great parents, students and staff. I know we will do epic things."
Verizon, along with Digital Promise and The International Society for Technology in Education (ISTE®), works to integrate technology-based learning in both the classroom and at home for students in middle schools, and specifically in underserved and under-resourced districts.
"This grant will change how our students learn and access information," said Tina Dean, West Ada School Board President. "We now have the ability to extend learning beyond the wall of school and the school day."
As part of the grant, Verizon and its non-profit partners will provide all students at Crossroads, Pathways and Meridian Middle Schools with tablets and Verizon Wireless 4G LTE data service for two years. There will also be comprehensive training and professional development for teachers on how to integrate technology into all aspects of the learning process and across all subjects.
"You all have been chosen and there is a great sense of responsibility," said First Lady of Idaho Lori Otter to the students. "This is a chance for you to show off and tell everyone what you can do with technology. It's also an opportunity to not only enhance what you know and how you learn, but to do it in a more effective way and makes learning more relevant."
Verizon and ISTE have put specific metrics in place to understand how technology integration is improving the ways teachers teach and students learn.
"The VILS grant is dedicated to addressing the 'digital divide'" in education," said Chris Lewter, regional president of Verizon. "Verizon believes students should have access to the technology and tools that will allow them to achieve their full potential in the classroom, and preparing them for the workplace of tomorrow."
Jared says he wants a career in the tech industry and knows today is a step in the right direction.
"This gives me a chance to learn and take that knowledge to high school and college."