Kid's Corner must be enabled in Settings to access the app.
From the Lock screen, swipe right to display the Kid's corner start screen.
To access the lock screen, press the Power button to turn the display off then press the power button again to turn the display on.

From the Kid's Corner start screen, swipe up to access Kid's Corner.

Tap Customize.

Set the preferred settings for the following customize options:
Enter the appropriate information in the Name your Kid's Corner field.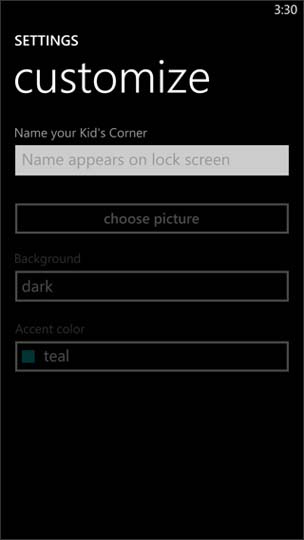 Top
Tap the choose picture dropdown menu.

Tap the appropriate picture folder (e.g., Camera Roll, Saved Pictures, etc.)
If applicable, swipe left or right to view folder types (e.g. albums, date, favorites, etc.).

Tap the picture to view then tap Save (check mark icon located at the bottom).
If presented, set the crop area.

Top
Tap the Background dropdown menu.

Choose one of the following settings:
Top
Tap the Accent color dropdown menu.

Choose one of the following settings:

lime
green
emerald
teal
cyan
cobalt
indigo
violet
pink
magenta
crimson
red
orange
amber
yellow
brown
olive
steel
mauve
taupe
sapphire
Top