Check out these FAQs to learn more about Verizon Cloud.

Notes:
To open, download, delete and restore documents and create favorites in Verizon Cloud, follow these steps.
Ensure your Verizon Cloud app is up to date as the steps below apply to the most recent version.
Images may differ depending on the manufacturer.
Tap the Verizon Cloud icon .
Tap the Navigation Menu icon (upper-left).

Tap Documents.

Tap the Contextual Menu icon (upper-right).
Tap Sort View.

Tap an option then tap OK.

Date Uploaded
File Name
Extension
Size

Tap the Contextual Menu icon.
Tap Select Documents.

Select a document then tap the Contextual Menu icon.

Download or Restore
Info
Delete a Document
Create Favorites
Open a Document
Download/Restore
Tap Download.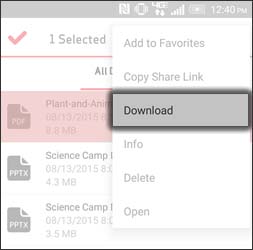 Related Topics:
Info
Tap Info.

View the document details then tap Close.

Related Topics:
Delete a Document
Tap Delete.

When prompted with 'Delete', tap Yes.
Related Topics:
Create Favorites
Tap Add to Favorites.

Related Topics:
Open a Document
Tap a document.

If prompted, select the app to use to open the document then select an option.
Related Topics: