Notes:
Uploading or downloading documents to an Apple iOS device with the Verizon Cloud is not currently supported.
The following steps apply to the most recent version so ensure your Verizon Cloud app is up to date.

If you choose 'All Files' from the Verizon Cloud menu then access your content folders, you may see a screen where there is no back or menu button. If so, simply swipe the screen from left to right to return to the main menu.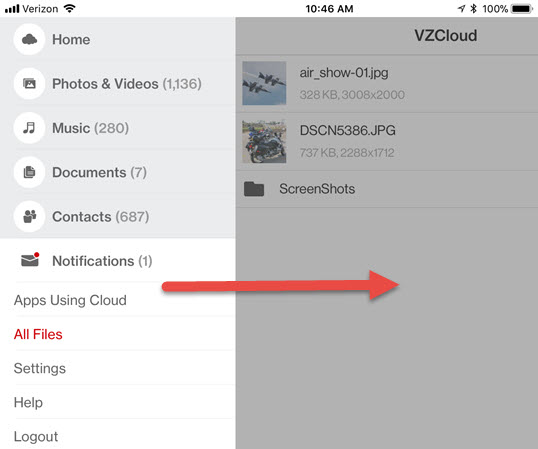 Tap the Verizon Cloud icon .
Tap the Navigation Menu icon (upper-left).

Tap Documents.

Documents are displayed in 2 sections, All Documents and Favorites.
Favorites are displayed only when a document(s) has been selected as a Favorite.

Open Document
Tap the Contextual Menu icon (upper-right).
Tap Select.

Tap a document(s) then tap the Contextual Menu icon (upper-right).

Create Favorite
Document Info
Delete
Open Document
Tap a document.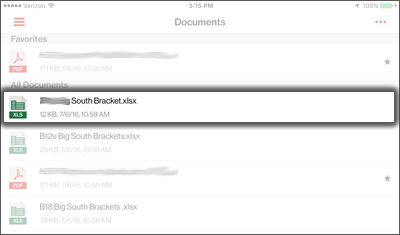 Related Topics:
Create Favorite
Tap Add to Favorite.

Related Topics:
Document Info
Tap Info.

View the document info then tap Cancel.

Name
Date Uploaded
Size
Extension
Related Topics:
Delete Document
Tap Delete.

When prompted with "Delete document(s)?", tap Yes.
Related Topics: