Use the provided info below to help determine if your device has water damage.

Caution:
Prepaid service customers: Visit a Verizon store to order warranty replacements. Orders for prepaid warranty issues can't be processed via Customer Service.
Standard service customers: If you need to replace your device under warranty and the device is water damaged, broken, or has unreasonable wear and tear, you could be assessed a Damaged Device Fee. If damage is found:

Several replacement options may be available.
If you have a LifeProof case, visit this support page. If you have a different protective case, contact the manufacturer to see if they have any guarantees against damage.
Ellipsis uses a white field with pink or red "X" marks to indicate a device that has had no liquid contact. When the indicator comes in contact with liquid, the "X" marks become pink or red smudge marks across the white field.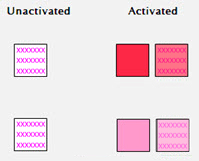 Verizon Ellipsis® 7 / Verizon Ellipsis® 8 / Ellipsis® Kids / Ellipsis® 10
The indicator is located inside of the headset jack (located on the top-right edge).