Only customers on The New Verizon Plan are eligible for Safety Mode.

Safety Mode is an optional feature of the new Verizon Plan that lets you keep using data at reduced speeds after your data allowance is used up for the month. You can stay online without worrying about overage fees. For more information on Safety Mode, check out these FAQs.

Notes:
Safety Mode can also be enabled or disabled via the My Verizon app.
Available settings vary based on user type (e.g., Account Owner, Account Manager, Account Member).
From a web browser, sign in to My Verizon.
From the My Verizon Home screen, navigate: Data > Data Overview.
From the 'My Usage' page, determine if Safety Mode is enabled or disabled:
Safety Mode is Enabled
To disable, click Disable Safety Mode then follow instructions to disable.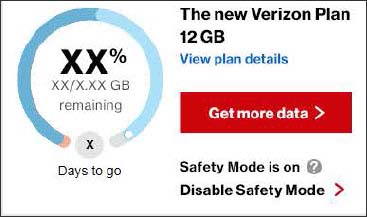 Related Topics:
Safety Mode is Disabled
To enable, click Enable Safety Mode then follow instructions to enable.

Related Topics: