Notes:
The OBD reader needs to be plugged into the OBD-II port to function and does not need to be charged.
These instructions are for charging the Speaker.
You can be alerted when your Speaker charge is low; view Manage Alerts and Notifications for more info.
Plug the car charging cord into micro-USB port on the side of the speaker (near the power button).


The speaker can also be charged using any micro-USB charger that plugs into a computer port or wall socket.


The speaker is fully charged when the LED outer ring of the speaker is completely green.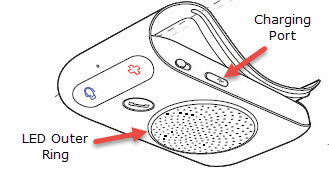 For additional info, check out these Hum FAQs.