For additional LG camera settings, refer to the LG Lancet User Guide.
From the Start screen, tap the LG Camera tile .
Alternatively, to use the default Microsoft camera, swipe left to display the Apps list then tap Camera (the options are slightly different).
Select an option:

Options is the only icon on the screen until tapped, at which point, the options are shown (e.g., FLash, Lens Swap, Settings, etc.).
Tap the Flash icon to select an option:
Turn the flash on
Turn the flash off
Set the flash for Auto.
Tap the Lens Swap icon to determine which camera to use:
Rear facing camera
Front facing camera
Tap Lens Picker.
Select an option:

Bing Vision
Camera
Find more lenses
Tap Settings
Select an option:
Tap the Resolution icon.

Select an option:

8M (3264 x 2448)
W6M (3264 x 1836)
5M (2448 x 2448)
3M (2048 x 1536)
Cheese Shutter


Cheese Shutter - Tap to take pictures with voice commands.
Tap the Cheese Shutter icon to turn the feature on or off.

Tap the Timer icon.

Select an option:
Tap the Frame Grid icon to turn the grid on or off.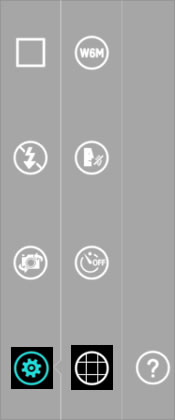 Tap the Help icon to display a quick guide to learn how each camera function works.