Tap Verizon Home .
From the Dashboard, tap Router and enter your Admin password then tap Connect.
The device must be connected to Wi-Fi to connect.
The Network name and password can be obtained via the SmartHub's external display.
Changing your Wi-Fi password does not change your Admin password.
If connecting to a computer, select the appropriate operating system for assistance:
From the Router dashboard, tap the approrpiate option:
Additional settings can be viewed or modified from the Admin Web Interface.


Data Usage
Network Settings
Connected Devices
Parental Controls
Data Usage
From Data Usage, view the current usage.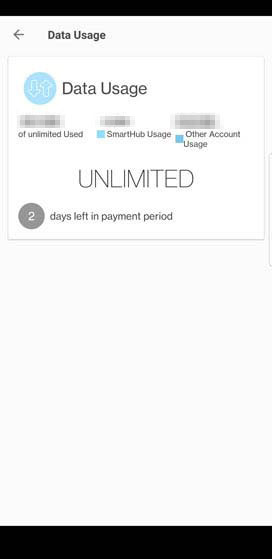 Network Settings
From Network Settings, tap the Primary or Guest tab then modify either of the following then tap Save Changes:
Wi-fi is reset while changes are applied, wait for the device to refresh and reconnect to WiFi.

Network Name
Wi-Fi Password

Tap Connect to Wi-Fi vis WPS as needed.
The message 'Searching...' displays for two minutes before the WPS process is timed out.
Connected Devices
From Connected Devices, view the list of connected devices.

Tap a currently connected or previously connected device to modify access.
From Device info, tap Block Access to Network.
The device is blocked when a check mark is present.
The blocked device is immediately disconnected from the router.

Parental Controls
From Parental Controls Websites tab, the Add icon then enter the URL to block.
Settings in Parental Controls are visible when the switch is in the on position.
From Parental Controls Devices tab, tap the device to apply parental controls.
Controls apply when the device is highlighted blue.