When turned on, Wi-Fi Calling may improve call quality while indoors.

Notes:
Activation requires a cellular data or Wi-Fi network connection.
Wi-Fi Calling settings don't transfer after switching devices and/or performing a factory data reset.
Wi-Fi Calls always originate in the US, even if you're outside of the US.

Calls to US numbers are not billed (except for 411 or other premium calls).
Calls to international numbers are billed according to the your international long distance plan.

To activate Wi-Fi calling for your LG Exalt® LTE, view these steps.
From the Home screen, do one of the following:
Options presented depend on device model and software version.
If Apps icon isn't available, swipe left on Home screen to access apps tray.

Navigate: Apps icon > Settings > More > Advanced Calling.
Navigate: Apps icon > Settings > Advanced Calling.
Navigate: Settings > Network & Internet > Advanced Calling.
Navigate: Phone app > Menu icon > Call Settings > Wi-Fi Calling.

If presented, review the Terms & Conditions then tap CONTINUE to proceed.
Ensure the Terms & Conditions option is checked .
Enter the emergency location info (E911) address then tap SAVE.
This info gets transmitted to the emergency dispatcher for all 911 calls made over a Wi-Fi network. If address validation fails you're prompted to enter a new address until a valid address is entered.
Upon successful validation of the address, Wi-Fi Calling turns on.
Power-cycle the device if not in the Verizon wireless coverage area or travelling internationally.
Alternate Method
When placing a call in a no network coverage/Wi-Fi only area, the device displays the following options:
YES, TURN ON WI-FI CALLING
Go to step 2 to complete the activation process.
NO, THANKS
Don't remind me again
Enabled when a check mark is present.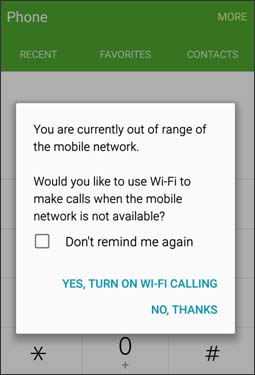 Related Topics: