From a Home screen, tap the Camera icon (at the bottom).
From the main camera screen, select an option:

Menu arrow icon then choose one of the following:
Shutter
Tap to take a picture in camera mode or record video in video mode.
Gallery
Tap to access photo gallery.
Scroll left or right then tap a Quick Camera option:

Night Sight
Tap to take a low-light photo without the flash.
Portrait
Tap to switch camera to portait mode.
Camera
Tap to switch to camera mode.
Video
Tap to switch to video mode.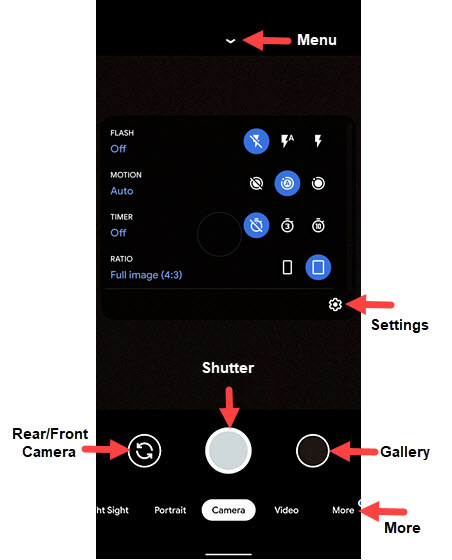 Motion
Tap the Motion icon then select an option at the top of the screen:
Motion off
Motion auto
Motion on

Timer
Tap the Timer icon then select an option:

Flash
Tap the Flash icon then select an option:
Flash off
Flash auto
Flash on

Settings
Tap Settings.

Tap to select an option or turn on or off :

General

Save location
Camera sounds
Google Lens suggestions
Framing hints
Save selfie as previewed
Social Share
Gestures
Grid Type
Advanced

Photo
Video

Ultra-high resolution video (4K)
Video stabilization

Help & feedback
Rear or Front Facing Camera
Tap the Camera Facing icon to switch between rear and front camera.

More
Tap More.
Select an option:

Panorama
Photo Sphere
Slow Motion
Time Lapse
Playground
Lens