Droid Turbo Software Update
Verizon Wireless is pleased to announce a software update for your device. This software update has been tested to optimize device performance, resolve known issues and apply the latest security patches.

Before you download:

Connect your device to a Wi-Fi network, or make sure it has a strong Verizon Wireless network connection.
Ensure your battery is fully charged before starting the software update.
System Update Instructions
If you received a notification message for this software update:

Tap Yes, I'm in to start downloading the software update.


Once the software update has finished downloading, Tap Install now.


Your phone will restart automatically after the install.

You've successfully updated your phone.

If you didn't receive a notification message for this software update, follow the steps below to manually update your phone:

Tap the Settings icon in the apps menu.


Tap About phone.


Tap System updates.


Tap Yes, I'm in to start downloading the software update.


Once the software update has finished, tap Install now.


Your phone will restart automatically after the install.

You've successfully updated your phone.
Software Upgrade Assistant Tool

If you don't have a strong connection to Wi-Fi or the Verizon Wireless network, you may not be able to perform a software update over the air. Instead, you can connect your device to a computer with Internet access. Connect your device to your computer using your USB cable, then download the Software Upgrade / Repair Assistant tool to your computer, which will check for software updates and initiate the software update process.
System Update
Software Version: 24.81.5.quark_verizon.verizon.en.US
Verizon Wireless is pleased to announce a new software update for your Droid Turbo. Android 6.0 Marshmallow improves your mobile experience with new battery-smart features and enhanced app permissions that give you even more control.

Now on Tap*

Now on Tap provides instant information, anticipating what you need in the moment.

With a simple tap, you can get cards with useful information and apps that feed your need to know. For example, if you open up the Calendar app and it has an appointment to meet at a Museum, just hold the home button and information about the Museum will be available to peruse. Once done, you'll go back to the Calendar app.

*Now on Tap is supported in English only. To change the language on your device, open Settings from the apps tray and scroll down to Language & input.
Doze mode

Doze mode optimizes your battery when you're not using your phone.

To customize Doze mode:

Tap Settings
Tap Battery
Tap Battery optimization
Selecting All apps optimizes Doze across the board.
App Standby

App Standby puts your seldom-used apps into a reduced activity state, minimizing battery drain. You can choose which apps are applicable to App Standby.
App permissions

It's a new feature to protect your privacy. Certain apps will now request your permission to use features on the phone.

For example, when using an app that needs access to your Contacts, you'll see a pop-up requesting access, as shown below.
App links

Android Marshmallow lets you choose what happens when you tap a web link. There are 3 actions you can set when you tap a supported link:

Open in this app: Android will automatically open the link in the app.
Ask every time: Android will always ask if you want to open the link in the app or in a Chrome browser window.
Don't open this app: Android will always open the link in a Chrome browser window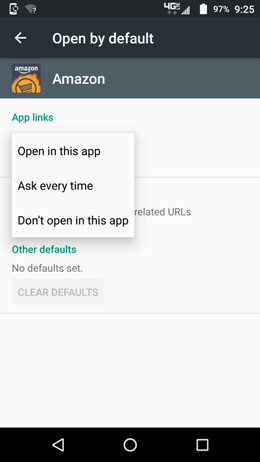 Do not disturb

You can easily configure interruptions by tapping the Do not disturb button in the quick settings panel. There are 3 different options:

Priority only blocks all interruptions except those from contacts and apps that you flag as important.
Alarms only blocks everything but your alarms.
Total silence blocks all interruptions, including priority and alarms.
The new Do not disturb feature also allows multiple automatic rules by time or event. You can also decide which apps are treated as priority. Notifications from these apps will go off in "Priority only" mode.
Volume controls

Android Marshmallow provides a clean and intuitive way to control the volume for your ringtones, media and alarms. Just press and hold the side volume keys to adjust your ringtone volume, then tap the down arrow in the volume slider that appears at the top of your screen to adjust the media and alarm volume.

To mute your phone when Do not disturb mode isn't enabled, and the phone volume is set to vibrate, press the volume down button again to activate Alarms only mode. You won't be interrupted by calls, emails and other notifications, but your alarms will still go off.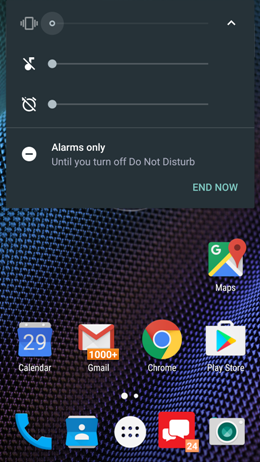 Direct Share

Direct Share* is a new feature in Android Marshmallow that enables sharing directly to a contact or conversation within an app. Tap the share icon in the app and at the top of the share panel to see a list of contacts with app icons next to their names. Then just pick the contact and hit Send.

*Note that Direct Share needs to be enabled by the developers of each app.
Moto Display and Ambient Display

Ambient Display has been removed from devices with Moto Display, and users previously on Ambient Display have been migrated to Moto Display.

Open Moto Display by tapping the Moto app, then the icon on the top right corner of the screen, go to Display and tap the switch at the top.
Attentive Display

Android Marshmallow has integrated Attentive Display into Moto Actions. To disable or enable Attentive Display, open the Moto app, tap Actions, then tap Attentive Display.

Attentive Display runs in battery saver mode, automatically dimming your screen when you're not looking at it.
Next steps and additional links
Please allow additional time for the apps on your device to continue to download after the software update.
DROID is a trademark of Lucasfilm, Ltd. and its related companies. Used under license.
Android is a trademark of Google, Inc.