The S Pen is a stylus that assists you in performing different functions on the Note 5. The S Pen stores inside the device for convenient access. Proper removal and insertion is imperative to not damage the device. See below for proper removal and insertion of S Pen.
Remove the S Pen
From the bottom edge of the device, press in on the S Pen to unlock (figure 1) then pull outward using the notch on the end (figure 2).


For the device to recognize the removal of the S Pen, ensure that pen detection setting is turned on

. If necessary, navigate: Apps > Settings > S Pen > Turn off pen detection.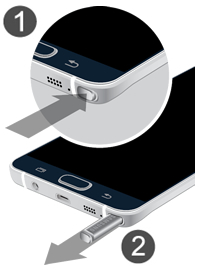 Insert the S Pen

Inserting incorrectly may damage the pen and your smartphone.
With the nib (tip) pointing inward, insert the S pen into the storage compartment located on the bottom edge of the device.


Press in on the S Pen to lock it into place.